The process of finding the right person for a job can take a lot of time. It's like a step-by-step plan to find the best fit for the position. It starts with realizing there's a job opening and ends when the perfect person is chosen and offered the job.
Having a good recruitment process is vital because it helps attract the best candidates and ensures a successful hiring. A report by Glassdoor Economic Research found that the average time it takes to fill a job vacancy in the United States is 24.9 days. So, how can you find the right candidate quickly and easily?
To make things easier, you should optimize your recruiting process. In this blog, we will explain the recruitment process, list the seven essential steps to hire the right candidate, and share some useful hiring tips.
Hiring Made Easy! 7 Effective Steps
Step 1: Identify Job Requirements
Identifying job requirements is a crucial first step in the hiring process to ensure the right candidate is selected for a particular position. This involves a thorough analysis of the skills, qualifications, experience, and attributes required for the job.
Here is a detailed guide on how to do this effectively:
Review and create a job description outlining responsibilities, tasks, and goals.

Identify the technical skills (e.g., programming languages, software proficiency) and essential soft skills (e.g., communication, problem-solving) you need for the job.

Set performance indicators and goals.

Consider organizational culture for an ideal candidate fit.

Ensure compliance with labor laws and regulations.

Collaborate with relevant team members for a clear overview.
By following these seven steps, you can complete the job description and then move on to the next step of attracting candidates.
Step 2: Attracting Candidates
To attract the best candidates, you need to use smart and effective marketing and advertising strategies. The aim is to present the job opportunity and the great benefits of working with your company in a special way. Here are some simple techniques you can use to get the attention of potential candidates and create a happy and enthusiastic team:
1.Job Postings on Leading Job Websites: Take advantage of popular job search platforms like LinkedIn, Indeed, Glassdoor, and Monster to publish your job openings. Craft clear, engaging job descriptions that highlight the benefits of being part of your organization.
2.Harness the Power of Social Media Advertising: Leverage social media platforms such as LinkedIn, Facebook, Twitter, and Instagram to promote your job vacancies. Create visually appealing graphics and captivating content to entice potential candidates.
3.Strengthen Employer Branding: Enhance your company's reputation as an employer of choice through effective employer branding. Showcase your company culture, feature employee testimonials, and highlight any awards or recognitions to create a positive image that attracts top talent.
4.Targeted Online Advertising: Maximize the potential of targeted online advertising through platforms like Google Ads or Facebook Ads. This allows you to reach specific demographics or professionals with relevant skills and experience, increasing the likelihood of finding the perfect fit for the job.
By using these smart marketing techniques across various platforms, you'll boost your chances of attracting the right candidates who are genuinely excited about joining your team.
Step 3: Resume Screening
Once applications start pouring in, it's time to begin the resume screening process. Your focus should be on identifying qualifications, experience, and skills that align with the job requirements. Select candidates who appear to be a good match based on their resumes, as they will be considered for the next stage of the hiring process. This initial screening allows you to concentrate on the most promising candidates, ultimately saving time in the overall hiring process.
If you have received a huge number of applications because your recruitment strategy was successful, don't worry! There has a plan to handle this situation:
You begin by sifting through the applications to identify those with the minimum qualifications.

Next, you separate the resumes that possess preferred credentials, taking into account the applicants' experiences, certifications, domain knowledge, technical competencies, and skills. For instance, if you receive 100 applications for a software engineer position, you narrow down the pool to 10 candidates based on their educational background and relevant work experience.

Your

shortlisting process

includes those candidates who meet the minimum qualifications and possess the required credentials.

If any concerns or uncertainties arise regarding a candidate's application, you make a note of them, and these points will be addressed during the interview stage.
Step 4: Conducting Interviews
Now it's time to engage in face-to-face interactions with the candidates. The interview process consists of multiple rounds, allowing you to delve deeper into their skills, alignment with your company's culture, and problem-solving abilities. You have the flexibility to employ various interview styles, such as situational inquiries or presenting problem-solving challenges.
These diverse techniques facilitate a comprehensive understanding of the candidates, aiding you in making a well-informed decision. After shortlisting the applicants, proceed with phone screen interviews for the top candidates. The phone screen is a brief preliminary screening lasting about 15 to 30 minutes. During this phase, maintain consistency by asking a few basic "get to know you" questions, probing their skills, experience, and interest in the company and position. This preliminary interview should provide insights into their character and soft skills.
While conducting phone screenings, be attentive to red flags like negativity, lack of preparedness, a lack of curiosity, or poor cultural fit. Once the phone interviews have narrowed down your candidate pool, proceed to conduct final-round interviews in person (or via video conferencing for remote recruitment). These in-depth interviews will assist you in selecting the top candidates. Involve multiple team members in these interviews to gain a broader perspective on how well each candidate will fit within the organization and their prospective role.
Step 5: Skill Assessments and Tests
Before making the final hiring decision, it is crucial to perform comprehensive background and reference checks on the candidates. This involves verifying their work history, education, and other essential details. Additionally, reaching out to their previous employers or references will provide valuable insights into their past performance and behavior in the workplace.
To conduct background checks effectively, consider the following:
a. Choose a reliable provider: When choosing a background check provider, make sure you pick one that is trusted and follows the rules. They should offer various types of checks that suit your needs. Providers that offer a full range of services are usually more reliable. But don't forget to check if they comply with the law, their prices, how quickly they deliver results, and what services they provide.
b. Communicate with candidates: Before checking someone's background, ask for their permission as required by the law. Be open to candidates about why you're doing the checks and let them know it's a normal part of the hiring process. Keep them informed throughout the process and tell them if there are any negative results that could affect their application.
c. Interpret results appropriately: When you get the background check results, pay attention to any serious problems that may come up. Some issues might be so bad that the person can not be considered for the job. Others might not be as serious, and it's better to talk to the candidate to understand their side of the story.
Reference checks are vital in the final selection stage. They offer insights from previous employers or colleagues on performance and suitability. Use them alongside other evaluations to make an informed hiring decision.
Step 6: Background and Reference Checks
Before making the final decision, it's important to check the candidates' background. This means confirming their work history, education, and other important details. You can also talk to people the candidates have worked with before, called references, to get a better idea of how they performed in the past and how they behaved at work.
This step helps you ensure that the candidates are trustworthy and have the experience they claim to have. By doing background and reference checks, you can make sure you're hiring someone who is reliable and will be a valuable addition to your team.
Step 7: Providing the Job Offer
Congratulations on successfully navigating the well-organized selection processes for recruiting new employees and finding the ideal hire. Now, it's time to communicate the job offer to the chosen candidate. This step is crucial; when done right, you'll soon welcome your new employee to the office. However, any oversights could result in losing a great candidate and starting the hiring process all over again.
Here are some tips to streamline the job offer approval process:
Early discussion of employment terms: Address salary, bonuses, and working hours early in the selection process to determine if there's an agreement between you and the candidate on these essential factors before extending the formal offer
Make an informal verbal offer: Instead of waiting to craft a formal job offer letter, start with an informal verbal offer. Call the candidate to share the good news and gauge their interest. Allow them time to consider the offer without feeling pressured to respond immediately.
Use a job offer letter template: Save time by using an existing job offer letter template and only modifying the specific details such as the candidate's name, job title, salary, etc. This ensures consistency and efficiency in the process.
Keep relevant parties informed: Keep HR, Finance, and the CEO informed throughout the job offer process. There may be paperwork, approvals, and other preparations required before the new hire joins the company.
Smart Hiring, Using AI Sourcing Tools to Discover Great Employees
To make your hiring process better, it's a good idea to use data-driven methods and AI-powered tools like AroundDeal TalentAI. It's easy to use, free, and helps you hire more successfully! AroundDeal TalentAI acts as your helpful AI recruitment assistant. It gives you access to a huge database of over 120 million potential job candidates.
By using this tool, you can quickly find and connect with highly skilled candidates. The real advantage is that it automatically parses the job description and then provides you with the best candidates to choose from. Finally, you get the contact details of the top candidates, making your hiring process more efficient and cost-effective, while also potentially leading to better recruitment results.
AroundDeal TalentAI - your top AI tool for finding candidates on LinkedIn, combining the unique power of ChatGPT and human intelligence with the AroundDeal global database. This makes hiring easier and more successful.
So, How Do You Use AroundDeal TalentAI?
Next, access the LinkedIn interface where you'll be presented with two options.
First, On LinkedIn Jobs Page:
1.Visit the LinkedIn jobs page.
2.Click the "AI Sourcing" button.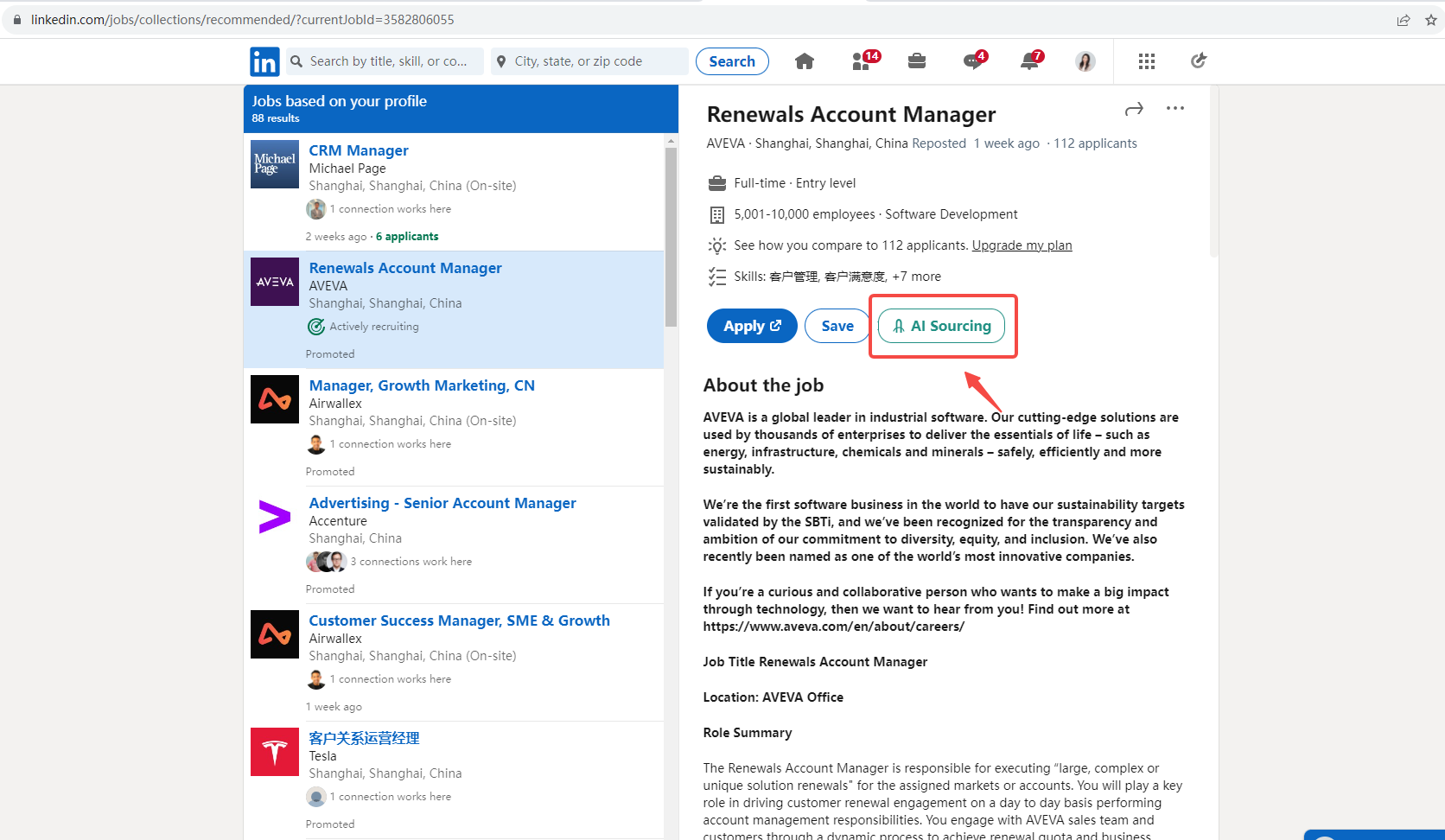 3.The AroundDeal TalentAI will automatically source candidates based on the job description.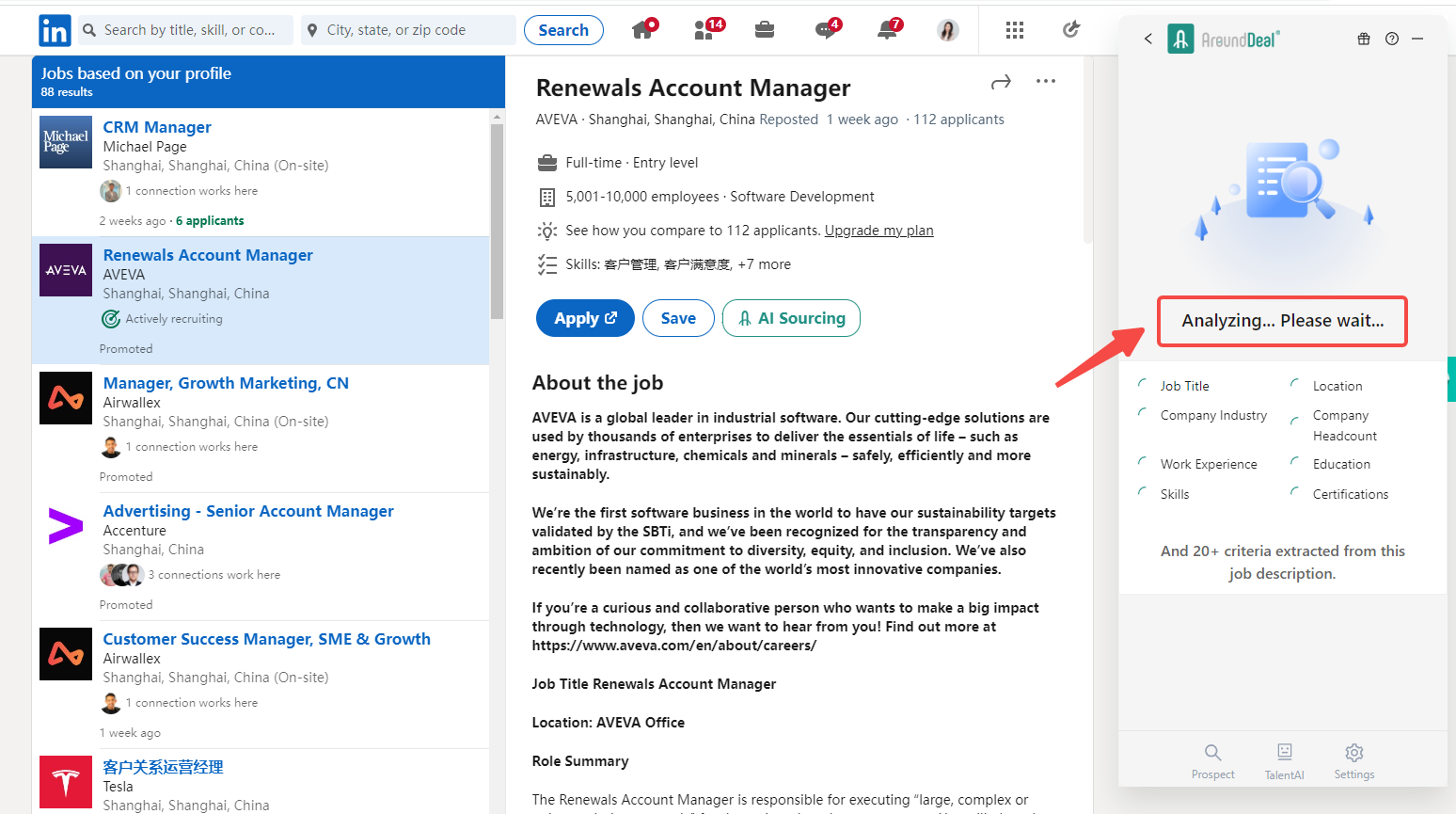 4.As a result, you'll receive tailored talent recommendations that meet your specific needs.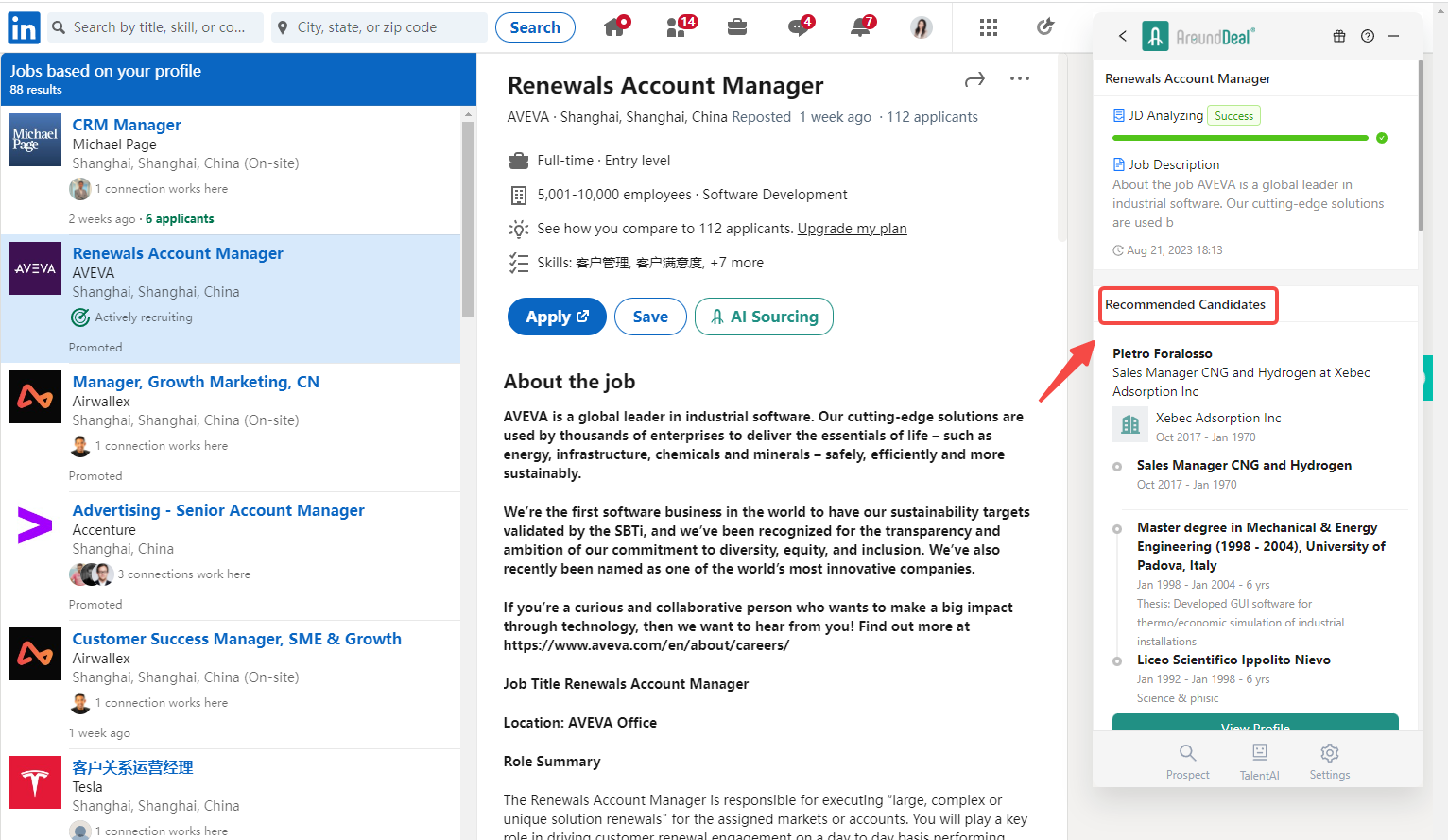 Second, AI Candidate Sourcing Tool :
1.Access the AroundDeal Extension interface.
2.Select the "Talent AI" option.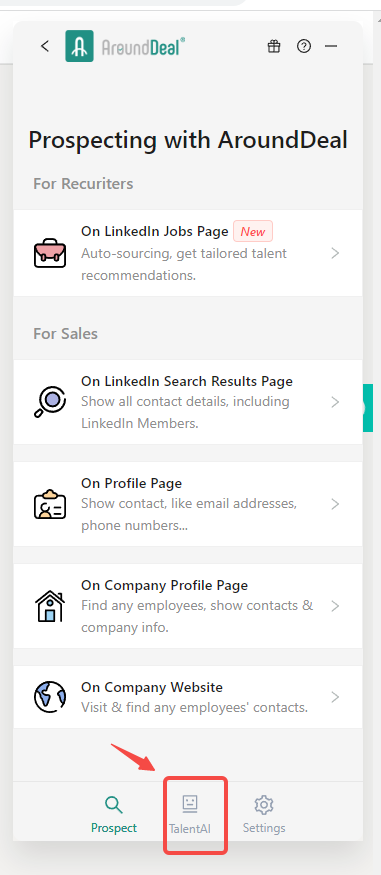 3.Then, input the desired job description for the candidate, click the "Sourcing Candidates" button to conveniently reveal all the candidates on the list.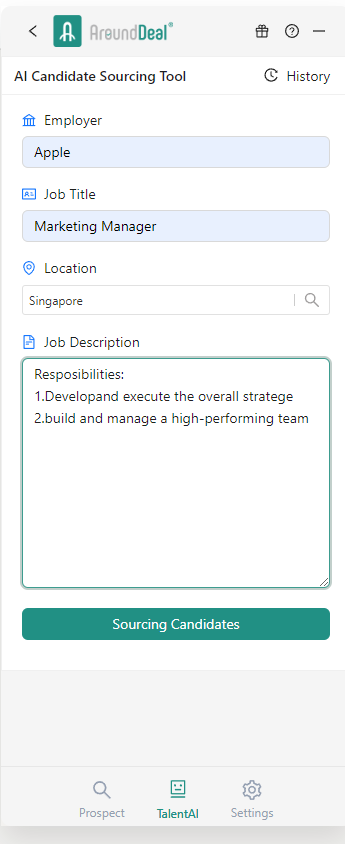 4, Finally, you'll receive tailored candidate recommendations that meet your specific needs.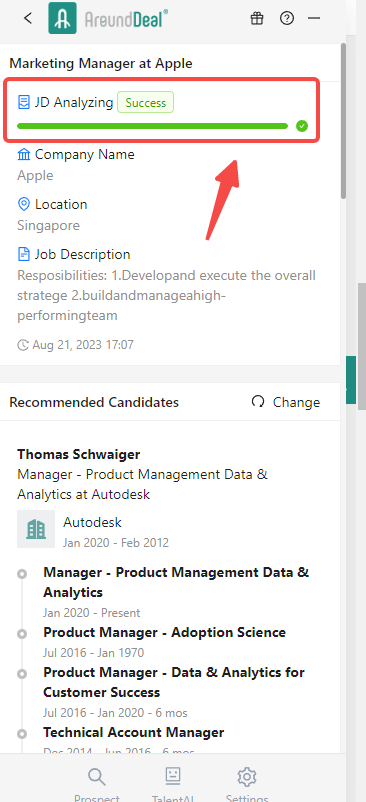 Say goodbye to time-consuming manual searches and let AroundDeal TalentAI streamline your sourcing process.


Take Keyaways:
The recruitment process can be time-consuming, taking an average of 24.9 days to fill a job vacancy in the US.

Finding the right candidates easily and quickly requires optimizing your hiring process.

Improve your hiring success with AI sourcing tools like AroundDeal TalentAI. Save time and effort while finding the best candidates easily and for free.
Ready to enhance your recruitment process and find the perfect candidates? With AroundDeal's TalentAI, finding candidates takes just seconds. It's a simple and user-friendly tool to get started with for free!
lead-generation

contacts-finding