Every four weeks, our development team carries out a significant update to our Extension, and we are excited to
announce the release of the latest version: v8.4.6.
This update primarily focuses on improving the TalentAI feature within the AroundDeal Extension.
In addition to the existing features of TalentAI, our new version includes the following enhancements:
1.Significant Upgrade in TalentAI Matching Accuracy
In the previous release, TalentAI occasionally encountered issues such as failing to match candidate data or recommending candidates from the United States when searching for candidates in Singapore. However, in the new v8.4.6 version, these issues have been completely resolved. Test data indicates that TalentAI now achieves a matching accuracy of over 99%. You can trust this extensive list and swiftly create a shortlist based on your expertise as a recruiter.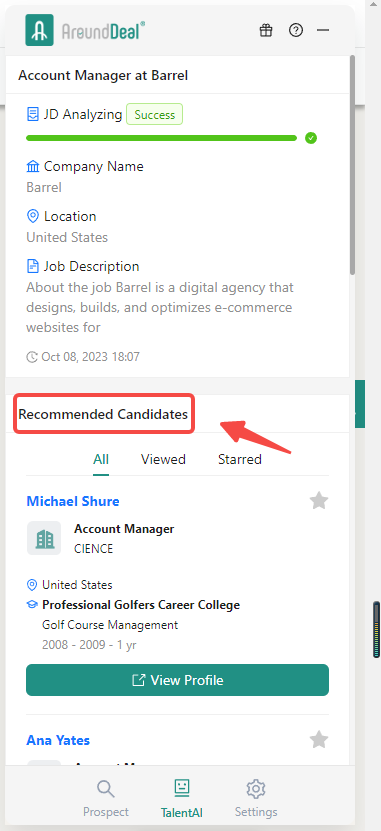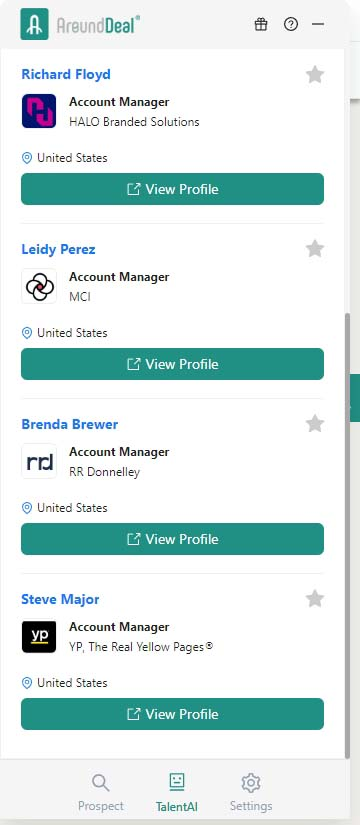 2.Compatibility with LinkedIn Recruiter Version
Previously, AroundDeal Extension was only compatible with the free version of LinkedIn. However, during our testing phase, we discovered that many recruiters have LinkedIn Recruiter accounts. As a result, we have now made the extension compatible with LinkedIn Recruiter accounts. Whether you have a LinkedIn free version or a Recruiter version, you can access and use the AroundDeal Extension's AI recommendation feature.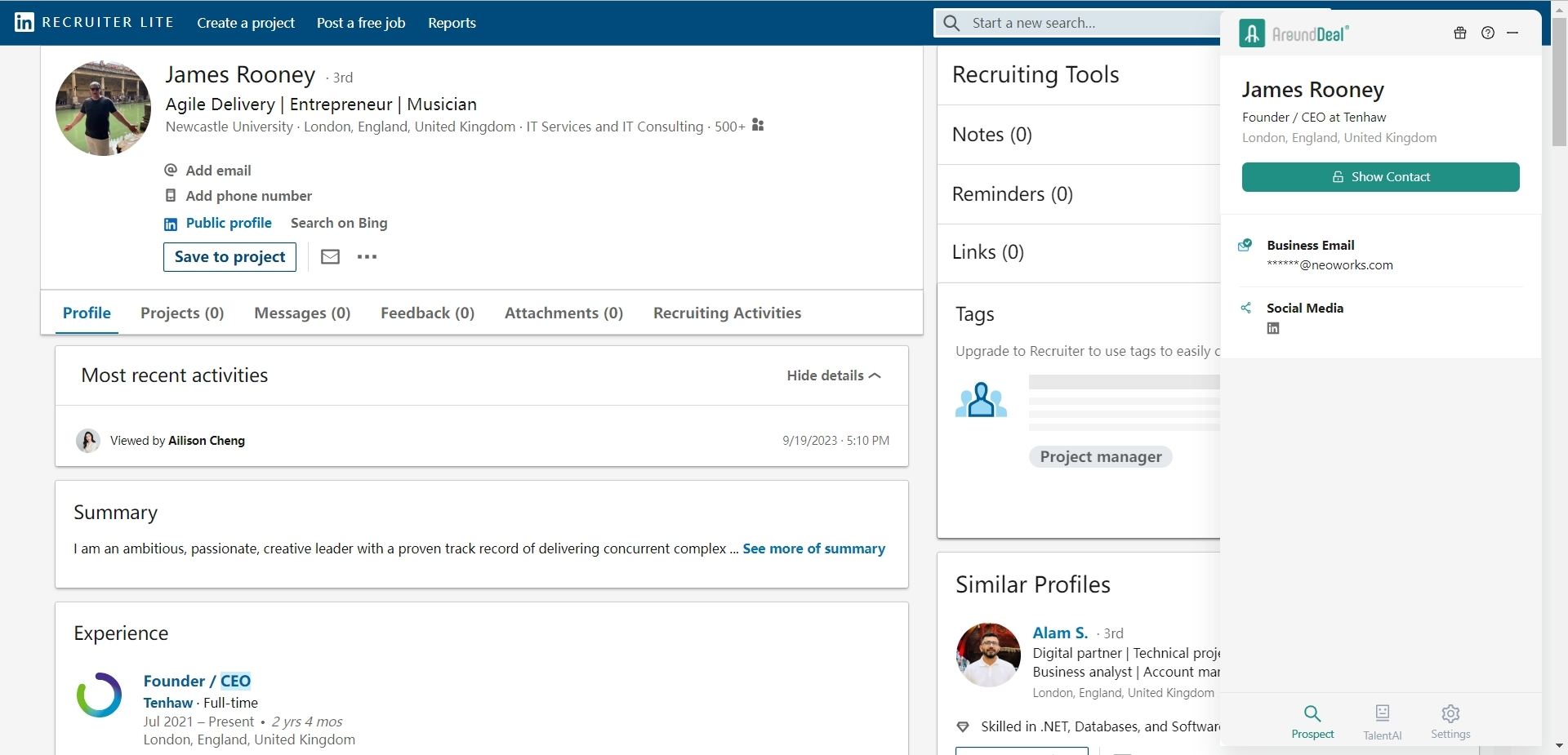 3.Introduction of the "Load More" Option
Some HR professionals provided feedback that the recommended long lists were not extensive enough, and they wished for more candidates who matched the job requirements. We have now addressed this by introducing the "Load More" option. However, please note that the recommendations at the top of the list are the most accurately matched candidates determined by AI calculations.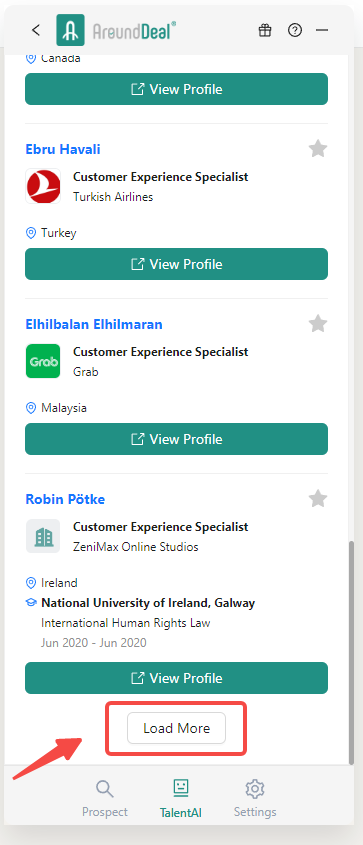 4.Introduction of "View" and "Starred" Features
To facilitate the process of selecting, saving, and viewing candidates, we have introduced the brand-new "View" and "Starred" buttons. These features allow recruiters to categorize and archive candidates from the long list, making it easier to unlock contact information or send bulk emails in the future.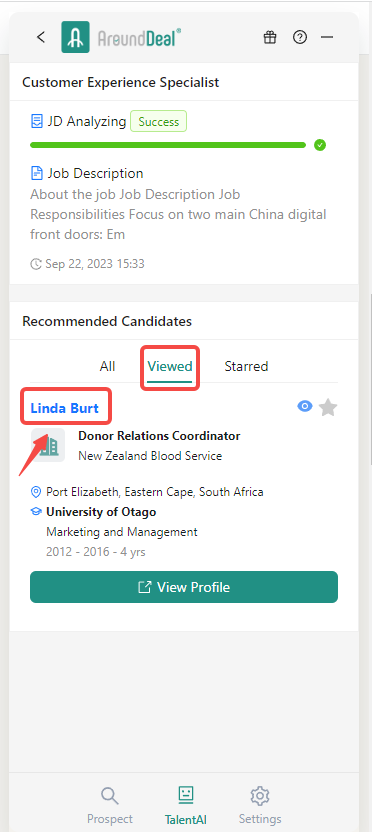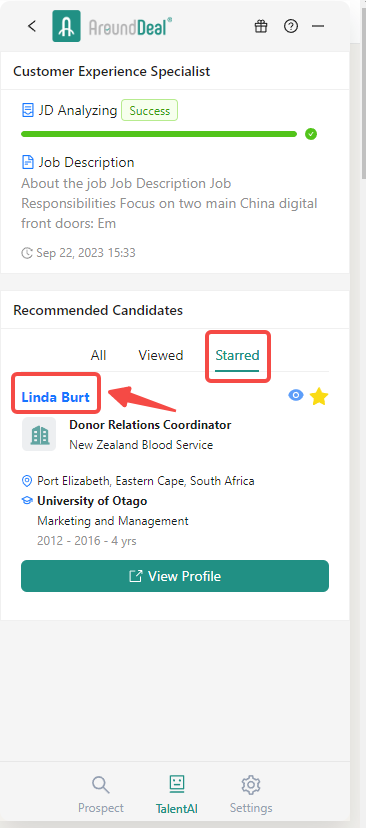 5.User Interface (UI) Gets a Visual Makeover
In the past, our Extension interface was text-heavy and lacked images. Many recruiters provided feedback that they found challenging to differentiate between candidates and their information, leading to confusion. In the new version, we have added logo images for each candidate's respective company, making it visually appealing and easier for you to identify which candidate belongs to which company at a glance.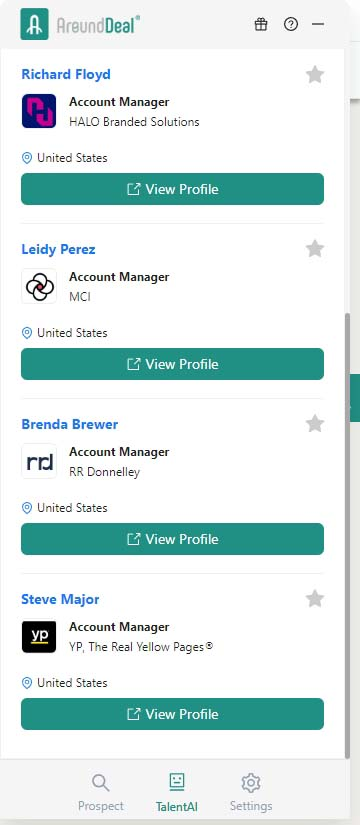 With these enhancements, we believe that the AroundDeal Extension v8.4.6 will significantly improve your recruitment process and provide a more seamless experience for recruiters. We look forward to your feedback and hope you enjoy using our latest release.